Winter Warmers Dapper Dog coats in the Clinic at Hanly Vets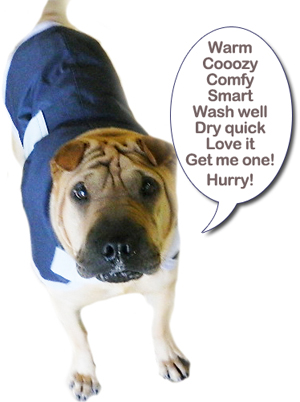 This Winter, Hanly Vets have the lovely quality Dapper Dog coats and jackets as usual, All styles can be machine washed.
We put them to the test on our own dogs and asked the question? Are they warm, cozy and comfy?
Absolutely they are, just like our model says!
You can feel how warm and toasty they are just by slipping a couple of fingers under the jacket, they're really warm.  dogs can move easily and freely with no restrictions.
Make sure the Dog Coat size is right
One of the key things we love best about them is they are adjustable to give a really good fit.
When Dog coats fit well they're very comfortable for the Dog. Make sure your dog can move easily and freely with no restrictions.
A badly fitting coat or jacket is uncomfortable and will make your dog miserable and depressed.All styles are designed with comfort and warmth in the important places in mind, keeping dogs free from droughts and chills.
"Clinic Boss" – Little Jasmine has a reflective coat on (below), this is her favourite coat, as she likes to make sure we can see her in her chair, Oh yes, It's not just any chair, she keeps reminding us! It's "The Boss's Chair" and don't forget it she says!
Some of our own pets model their clothing this winter.