Adopt a Dog from Hanly Veterinary Clinic & Hospital Re homing Program
How do I adopt a Pet?
If you have any interest in adopting a pet, we have an online application form for your convenience, please complete and submit the form. Whilst being reminded that most questions are optional and do not need to be answered. Please answer as many as you feel comfortable with. The more questions you are able to answer, the more helpful it is to us for compatibility purposes. We have the best of intentions at heart for all adoptee pets as well as all family members.
What happens Next?
After submitting your application, a veterinary nurse will contact you as soon as possible. Application processing often takes up to two weeks, (this is normal), although we try to process applications as quickly as we can, however we are a very busy Veterinary Clinic and Animal Hospital. We thank you for your patience and understanding.
The well being of pets & families matched for compatibility to live happily ever after is very important to all concerned.
House Dog "Dallas" Now has a Home

Name: Dallas
Breed: Kelpie x Border Collie.
Born: December 2013
Star sign: Capricorn
Sex: Male – Sterilised
Dallas's Story
Dallas was born in December 2013. He's from a litter of 4 puppies that were originally rescued near a dump bin.
Dallas did get a lovely home with one of his siblings but he didn't want to share the attention, he came back to us for a short time, whilst waiting for a new family to call his own.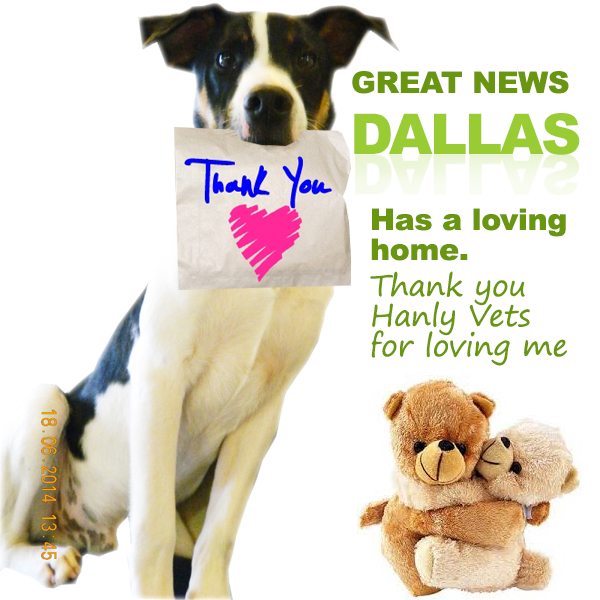 House Dog "Rosie" Now has a Home
Name: Rosie
Breed: Staffy X
Born: Early 2010
Star sign: Possibly Aries or Gemini
Sex: Female – Sterilised
Rosie's Story
We have previously re homed Rosie, however due to unforeseen circumstances, Rosie is back with us looking for a permanent family home. Rosie is enthusiastic and loving, full of energy, always happy and wanting to play. She Loves toys especially soccer balls. She would love a family where someone would take her on walks or sensible runs every day and on outings to the beach, shes a water baby. Rosie is a very social dog, who also loves to play with other dogs.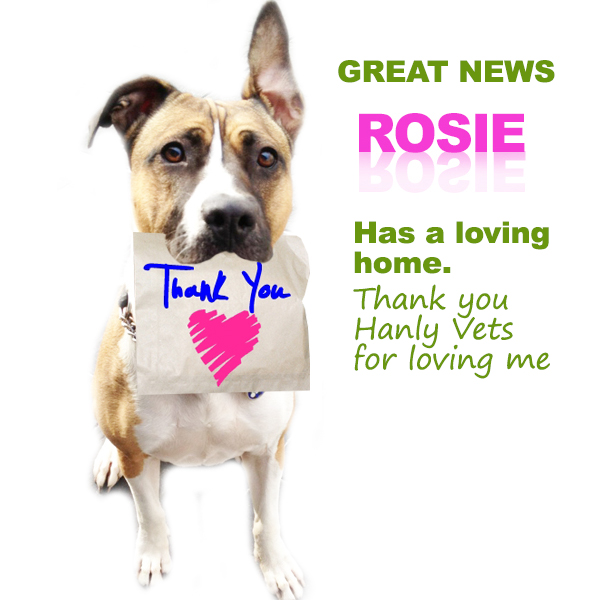 House Dog "Beanz" Now has a Home
Name: Beanz
Breed: Staffy X Ridge-back
Born: May 2014
Star sign: Taurus
Sex: Male – to be Sterilised when old enough
About "Beanz"

Beanz is a fun-loving, friendly and very easy going puppy with a lovely temperament. Beanz is a quick learner, especially when food is involved! He loves to play with toys, cats & other dogs. As of 10th August 2014, Beanz is approximately 10-12 weeks old.
Included with the adoption process, Beanz will be vaccinated, wormed and microchipped, Beanz will also be sterilised when he is 6 month old.
This means upon reaching this age, Beanz will come back to the clinic to be sterilised.  An appointment will be made Monday to Friday at your convenience.
Beanz will be fully covered for his Vaccination up to when his first yearly booster is due, where his new parents will be responsible for his yearly vaccinations as normal with any pet ownership.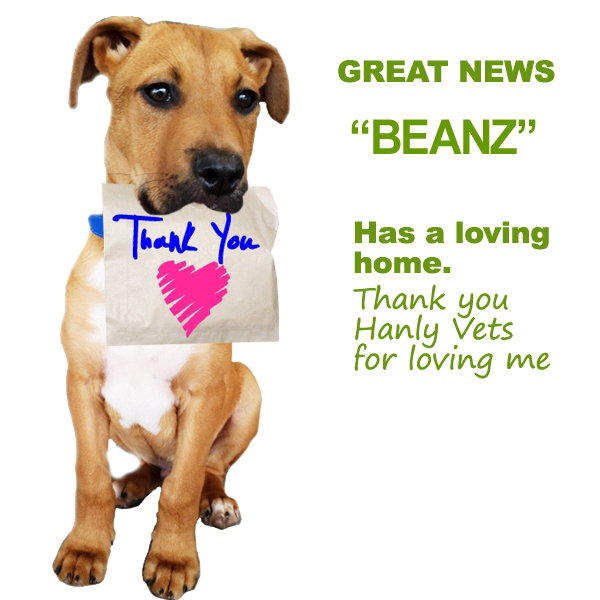 If you are interested in a particular dog please let us know it's name
You can let us know which dog you like in any of the notes sections of the application form
Click here to go to the application form